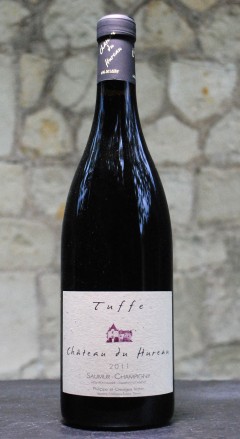 Our "Tuffe" cuvée, previously known as "Grande Cuvée" is the largest one: 80 to 100,000 bottles/year, depending on the vintage.
Coming from 15 parcels of old and young Cabernet Franc vines, Tuffe is a blend from different "terroirs", scattered around Saumur and Dampierre/Loire. Here the common denominator is the tuffeau (around Saumur, we would say "la Tuffe"), which can be found at anything from 1 foot to a couple of yards underneath the surface.
Differences in soils, exposition, age of the vines: this patchwork is the real nature of the Saumur-Champigny appellation, and we want "Tuffe" to be an example of the charm of our appellation.
From a serious basis of really ripe Cabernet Franc grapes, this is a really serious wine… But which doesn't take itself too seriously! Its delightful lack of pretention that will please one and all!
"The entry level is a model of its kind "
Guide Bettane et Desseauve 2012
Fiche Technique : Tuffe
| | |
| --- | --- |
| Cépage | Cabernet Franc |
| Sol | Argilo calcaire |
| Vignes | 15 parcelles sur les communes de Dampierre sur Loire, Souzay Champigny et Saumur. |
| Mode de culture | En conversion bio (Ecocert). Travail du sol, effeuillage manuel. |
| Vendanges | Manuelles et mécaniques |
| Vinification | Tri à l'entrée en cave, égrappage total, macération de 25 à 35 jours. Malolactique en cuve et élevage de 12 à 24 mois, majoritairement en cuve. |
| Recette associée | A juicy hunk of beef! |