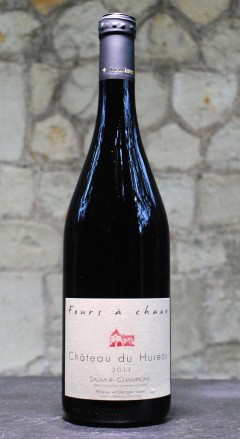 From one of the appellation's leading "terroirs", a real unofficial "Grand Cru"(there is not yet an official list of "Grands Crus" for Saumur-Champigny). Our "Fours à Chaux" cuvee is one of our 3 special cuvées.
Here, the soil is sand with clay above the tuffeau. Due to the south east exposure and the light texture, the soil warms up easily and manages to give very ripe grapes whatever the vintage.
Age of the vines: from 20 to 50 years old
Aromatic complexity, elegance, light and round tannins are the signature of "Fours à Chaux".
Fiche Technique : Fours à chaux
Cépage
Cabernet franc
Sol
Sablo-argileux à glauconies, sur tuffeau
Vignes
Situées de part et d'autre de la route des Fours à Chaux à Dampierre/Loire. Parcelles « les fiefgarniers » et « pavignolles ».
Mode de culture
En culture bio (Ecocert).
Travail du sol, ébourgeonnage, effeuillage, éclaircissage de finition en août.
Vendanges
Manuelles
Vinification
Tri à l'entrée en cave, égrappage total, macération de 25 à 30 jours, malolactique en cuve et élevage en foudre de 11 à 18 mois.
Recette associée
A great accompaniment to perfumed, spicy dishes such as tajine