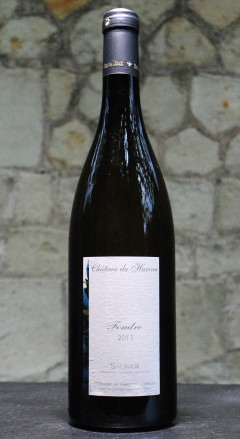 Historically the Chenin was the King of the grape varieties planted on the banks of the Loire, but little by little it has been usurped by the Cabernet Franc, and these days those golden grapes of the past are becoming a rarity in the Saumur Champigny appellation.
Severely restricted yields, organic farming, harvesting in successive pickings, fermentation and maturation in oak – no effort is spared in the making of this truly exceptional wine!
We use our best bunches of handpicked Chenin for this cuvée, those with that perfect balance of sugar and acidity , the hallmark of a wine with great ageing potential. The grapes are harvested in one or more pickings, depending on the vintage, then pressed immediately. The juice is left to settle for 24 hours then the fermentation takes place in 32hl and/or 600l barrels, with indigenous yeasts. We aim to leave the wine to ferment until there is absolutely no residual sugar left. No malolactic fermentation if we can avoid it. Ageing is in large wooden barrels for 11-18 months.
"Remarkable elegance, a jewel in the crown"
Le Guide Hachette
Fiche Technique : Foudre
| | |
| --- | --- |
| Cépage | Chenin |
| Sol | Argilo-calcaire profond |
| Vignes | Age moyen: 30 ans |
| Mode de culture | Travail des sols, en bio depuis 2005. |
| Vendanges | Manuelles |
| Vinification | En foudre de 30 hl |
| Recette associée | Scallops, or the Loire's speciality goats cheese from St Maure de Touraine |
Caractéristiques
Fermentation en foudre de 32hl d'un vin. Pas de sucres résiduels (1,5g).
Pas de malolactique et élevage de 10 mois. Dans un foudre Stockinger (le sommet de la qualité dans ce domaine), ces raisins superbes ne pouvaient donner qu'une grande cuvée!
Puissance, complexité, minéralité et longueur...