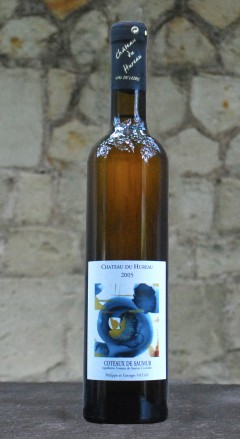 The Coteaux de Saumur shows off another side to the Chenin, no doubt its most prestigious one; its ability to produce what many people would class amongst the best sweet wines in the world; As in Vouvray and Montlouis the grapes grown on the Coteaux de Saumur dig their roots deep down into the chalk, producing wines with a characteristic freshness and liveliness
Coteaux de Saumur is only produced in the greatest years when the grapes are able to become hyper ripe and concentrated thanks to a combination of noble rot, passerillage, sun and cooling winds.
The precious bottles of Coteaux de Saumur which have been hiding away in our rock-hewn cellars for decades, and in some cases, for more than a century, are proof of the passion and expertise of the wine makers and the miracles that can be performed when the weather permits, as in 1893, 1921, 1945, 1947, 1959, 1964, and more recently, 1989, 90, 95, 96, 97, 2003 et 2005
"We must admit that we have a weakness for the Coteaux de Saumur…."
La Revue des Vins de France
Fiche Technique : Coteaux 2005
| | |
| --- | --- |
| Cépage | Chenin |
| Sol | Argile sur tuffeau |
| Vignes | Les îlots les plus favorables au sein de nos trois petites parcelles de Chenin (Dampierre-sur-Loire) |
| Mode de culture | Travail du sol, en conversion bio. |
| Vendanges | Manuelles |
| Vinification | Pressurage direct, fermentation et élevage en barriques. |
| Recette associée | As an aperitif accompanied by foie gras on warm toast, or even with a dark chocolate pudding! |
Caractéristiques
Le soleil de 2005 capturé par le Chenin! 240g/l de sucres résiduels sans aucune lourdeur, une fin de bouche sur des notes d'abricot sec qui vous laisse une énergie incroyable...un flacon d'exception.